Local Mums recommend the best career break workshops in our area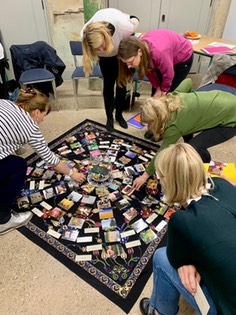 "I highly recommend Relaunch to Local Mums. When my term as Head of the PTA ended, I wanted to continue being busy – preferably in a paid role! - but I wasn't sure exactly how to go about it or what my strengths were after my 14-year career break. Luckily, I heard about the ReLaunch course at just the right time. ReLaunch gave me the confidence and assertive attitude to apply for and successfully obtain my current role as the Alumni and Events Manager at a local independent school. It is honestly one of the best things I've ever done!"  
Emily, Local Mum

Relaunch
• Are you feeling stuck or unsure of your next steps after a career break?
• Do you want to clarify your professional objectives?
• Would you like to return to work, change careers, start your own business or make a difference in your community?  
Link UP London's 4-part ReLaunch Course at the Battersea Arts Centre helps professional women out of the paid workforce to understand the value of your strengths, reignite your confidence, clarify your goals and create a plan for your next steps. 
The ReLaunch course was launched in January 2018 and has already helped dozens of women. Since completing ReLaunch, many participants have gained full-time or part-time employment, started their own businesses, changed careers, engaged with skilled volunteering or gone on to further education.
To book your spot on the upcoming ReLaunch course starting on the 5th of May, email: ReLaunch@linkuplondon.org 
Dates:  5th May, 12th May, 19th May and 2nd June 2020
Time:    9:30 – 13:15
Venue:  Battersea Arts Centre, Scratch Hub, SW11 5TN
Early Bird price: £200 for the course (full price is £250)
ReLaunch courses run regularly throughout the year. For more information, get in touch with Heather: ReLaunch@linkuplondon.org
Upon completion of the course, participants benefit from continuing support in the form of regular meet-ups with your ReLaunch cohort, access to the ReLaunch online platform, motivational newsletters and events, and mentoring opportunities. ReLaunchees can also choose to get involved with Link UP London's skilled-volunteering projects, which are a great way to gain experience, boost your well-being (and CV!) and make a difference. 
About Link UP London
Link UP London's Skilled Volunteering Programme connects people who have professional skills with local charities, social enterprises, and community groups, who need their help, through the creation of flexible, short-term skilled volunteering projects.
Link UP's work revealed that the skills of professional women out of the paid workforce are vastly underutilised, at a loss to the community. ReLaunch was created to help women see the value of their skills and empower them to take their next steps. 
Contact:
Heather Paton
Programme Coordinator
Relaunch
Tel: 07366 093 399
Email: heather@linkuplondon.org
www.linkuplondon.org